14oz $2.50/ft²
It has a smooth surface for high quality printing performance, and has a soft rubbery hand feel. 1000 Deniers for strength.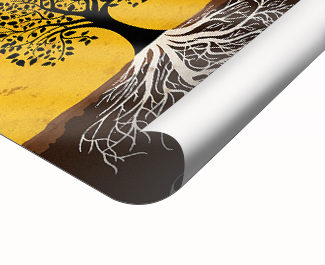 8 Mil Poster Paper $2.25/ft²
Environmetally friendly pvc free poster paper. It is great for all your general poster needs.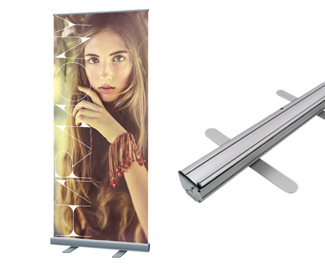 31.5" Retractable $133.50
Economical way to promote a business or product and is easily portable. For indoor use only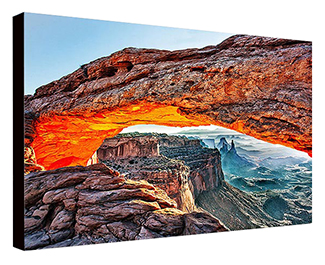 Semi Gloss Canvas $15/ft²
Stretched canvas is available in the combination of the following sizes: 18", 20", 22", 24", 28", 36", 48"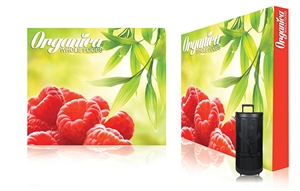 8'x10' Display w/ Graphic $853
This stand expands open like an umbrella into an 8x10 straight display. Great for tradeshow.
Print Large Posters Cheap
Print N' Display is the top destination online for you to Print Large Posters Cheap. We are a large format printing company specializing in large format prints, custom poster printing, cheap poster printing 24 x 36, poster printing online, bulk poster printing, large poster printing and more!
We o­ffer affordable large format printing prices and excellent services to business, agencies, and event companies. Call us at (626) 274-3333 to learn more about the rates we can offer you!
Besides being a great resource for you to Print Large Posters Cheap we also specialize in banners, posters, tradeshow displays and much more! If what you need is not on our website, please request a custom quote.
No Banding Lines Guarantee
What makes us different than other printing companies where you can Print Large Posters Cheap is that we also offer you a no banding lines guarantee, this means that you can expect an excellent printed banner or poster that you can be proud to use for promoting your business, products, services, and solutions.
Another great thing about Print N' Display is that we also have real customer service and support Monday through Friday from 8:30 am to 5:30 pm PST so if you have a question or need assistance.
Your Source for Printing Services and Solutions
With Print N' Display, you can also find the products you need like displays, retractables, rigids, paper, adhesives, stock signs and so much more so you no longer have to leave your office to find the products you need, you will be able to find them all online at https://www.printndisplay.com/.
At Print N' Display you can count on us for excellent prices for large poster printing that are better than Kinko's so stop shopping around for quotes, or printing posters at home, contact us today at (626) 274-3333 or click here to start your order online so you can Print Large Posters Cheap or offer the products you need for your business.
Print Large Posters Cheap
Besides being your resource for printing large posters cheap, at Print N' Display you can also count on use for being the resource you need to grow your business!
Don't spend another year not factoring marketing into your budget, with Print N' Display you can find everything you need for professionally marketing your business including banners, displays and so much more!
Marketing is especially important if you have a storefront business because, all of your past and future clients are walking, driving or riding right outside of your door and you can use our service to attract new customers to your business.
What's best of all is that our banners can be used for outdoor and indoor use so you can hang them outside of your business or indoors for new instore promotions, sales and so much more!
Don't see what you need on our website? Contact us anytime at (626) 274-3333 or click here to connect with us anytime through our website to get your questions answered or start your order online.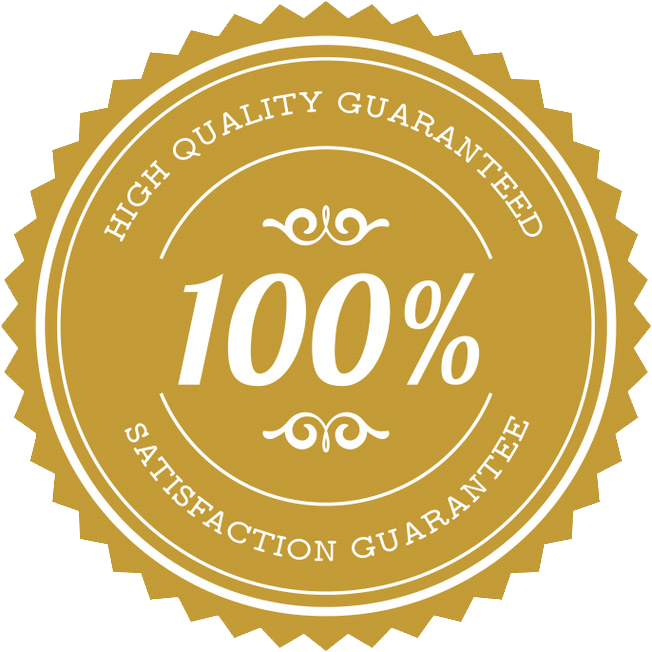 Quality
We guarantee your prints to be free of banding lines and full of color. We use quality name brand materials and original manufacturer's inks to ensure the quality and consistency you'd expect from a quality vendor. We know of no one else who truly believes that quality prints start with quality materials. Whatever your needs may be from prints to displays, have comfort in knowing that you will deliver a high quality product to your customer.
Services
We offer an extensive line of large format printing services: banner printing, coroplast printing, large format posters, displays, flags, retractable stands and much more.
Support
When you have a need to call us, don't worry, we won't transfer you to voicemail. We promise to answer your call when calling during business hours and for your convenience, you can also check the status of your orders anytime online. We understand that there are urgent times when you need to speak with someone. We are here to support you!